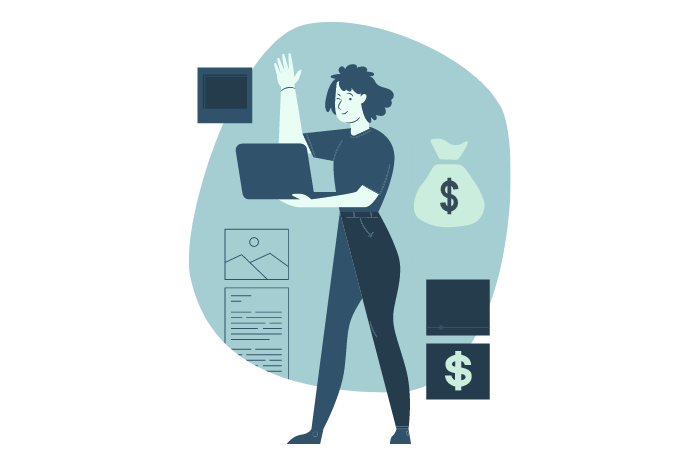 7 Best Hacks to Always Get Accepted by Affiliate Networks
In this article, you will learn the best hacks to get accepted by affiliate networks more often. Even if you are just starting out with affiliate marketing!
Affiliate Disclosure: Some of the links on this website are affiliate links. If you use them to make a purchase, we will earn a commission at no additional cost to you. This is how we manage to create free quality content for you. Please know that your trust is vital for us. We always look for the best deals to share with you and only recommend services that we believe will be helpful. Thanks for your usual support! Read the full disclosure here.
What is an Affiliate Network & how does it work?
An affiliate network is an intermediary service that connects bloggers, influencers, and digital content creators with affiliate programs from companies in various industries.
When you get accepted by an affiliate network, you get a business profile informing companies of the following data:
Your country

Your website address and email

In which countries do most of your audience reside

The language of your audience

Your written proposal to companies (why partnering with you can be beneficial, how you communicate with your audience, which is your niche, etc.)
With this business profile, you can apply to different affiliate programs without filling out their affiliate applications individually. In addition, companies can also find your profile and send you partnership proposals.
After being accepted by an affiliate program, you can access affiliate links and banners to share with your audience. When someone clicks on your affiliate links and makes a purchase, you receive a commission through your chosen payment method.
What does 'Affiliate Program' mean?
An affiliate program — sometimes called an associate program — is a commercial agreement between a business and a digital content creator (blogger, YouTuber, influencer, etc.).
In a nutshell, this commercial agreement allows the digital content creator to promote the company's products or services through an affiliate link.
The company pays a commission to the digital content creator when someone makes a purchase through their affiliate link.
Can anyone join an Affiliate Program?
In theory, anyone can join an affiliate program, but that doesn't mean everyone will have their affiliate applications approved.
Most companies that provide affiliate programs are looking for a specific profile of partners to work with. 
Identifying this profile and recognizing whether you fit it or not is the wisest attitude before applying to an affiliate program.
Why don't some Affiliate Networks accept everyone?
There are several reasons why not everyone gets accepted by affiliate networks. Each rejection case might have a specific reason based on preset criteria. 
Companies seek to make better business-friendly decisions. So you must meet their benchmarks before they decide in your favor as a business partner.
The most frequent reasons why not all affiliate marketers get accepted by Affiliate Networks are:
Not having enough traffic or followers

Failure to comply with the Affiliate Network Legal Requirements

Not having a platform to promote affiliate products and services

Not having a professional website and an email under your own domain name
However, to know the exact cause of rejection, it is necessary to analyze the application and the affiliate network in particular. As already mentioned, each case might be unique.
---
7 best hacks to get accepted by Affiliate Networks
Affiliate programs indeed tend to have different approval requirements based on the type of product and service they offer. However, affiliate networks often have similar approval criteria. Once you learn them, you have little to worry about.
So, if you have avoided joining affiliate networks for fear of rejection, these hacks will dramatically increase your chances of being accepted by affiliate networks.
#1 Create a website with a domain name that you own
It is simple to create a basic account with most affiliate networks. Generally, they only require a valid email address and password. But the real approval process happens later.
After creating your account, you must fill out a legal form and provide the required information about yourself, your audience, and your website.
Thus, in cases where the field to inform the website is mandatory, you will not even be able to finish the application without a website.
Your website is the best portfolio and business card to make the good impression you need to get accepted by affiliate networks.
The affiliate network team will always check your website before approving or rejecting your application. Therefore, remember that your website is the place to showcase your potential. Possibly through blog posts or highlighting your ability to communicate with your audience on social media or YouTube Channel.
Also, a professional website with your own domain name matters to show professionalism.
Providing a website created on some free platform such as Blogger that gives you a subdomain under .blogspot.com (i.e., yourwebsite.blogspot.com) will seem too amateurish for the affiliate network that is looking for committed business partners.
So if you want to be accepted as a professional affiliate marketer, be professional.
If you don't already have a website and domain name, DreamHost offers fast & quality WordPress hosting for $35.40/year. And you even get a domain name of your choice for free! Click here to learn more.
#2 Use a professional domain email
While having a domain email is fancy and all, its importance goes far beyond that. As an affiliate marketer, having a website and email under the same domain name shows you are committed to building a brand.
Anyone and their mother can create a free email via Yahoo Mail or Gmail. In other words, it says nothing about the person. On the other hand, an email yourname@yourwebsite.com is an indication that you are a professional. Also, it's a sign that information about you and your business is available on your website.
Being professional and showing that you are committed to your affiliate marketer work is vital to being accepted by affiliate networks.
Most affiliate networks want to work with people and businesses committed to affiliate marketing. Of course, it's only logical. Many people hear about affiliate marketing once and think it is a get-rich-quick scheme (hint: it is not). They don't bother to study the subject to learn how to be successful as an affiliate marketer. 
Obviously, these people do not behave professionally and are unlikely to be able to make affiliate sales.
Therefore, why would affiliate networks want to work with these people? (Hint: they wouldn't.)
So, for the team responsible for approving and rejecting applications, seeing that you have a domain email makes you more likely to be trustworthy.
Also, affiliate networks know that those who use free emails are more likely to abandon affiliate marketing once they find out they are not becoming millionaires in the next 6 months. And nobody wants unstable and uncompromised business partners like that.
How to get a domain email at no additional cost to get accepted by affiliate networks
Do you remember the WordPress hosting service I mentioned above? So, DreamHost has the Shared Unlimited plan with unlimited emails @ your domain included in the package.
Also, by purchasing the annual plan for just $35.40, you get a FREE domain name + FREE domain privacy. 
There are no other costs involved! Click here to sign up for the Shared Unlimited plan.
#3 Create original content for your website or blog
No doubt that the affiliate network team responsible for approving and rejecting applications will check your site.
So, if you are a blogger, do not apply to any affiliate network until you have posted at least 10 quality, original articles.
Even if you are an influencer or YouTuber, having some blog posts will also benefit you. They can be just blog posts with summaries of your videos. Or explaining how you conduct your work as an influencer or YouTuber. 
What really matters is to show that you are committed to your business and know what you are doing.
Making a good first impression through original content on your website or blog is one of your best chances of getting approved by affiliate networks.
Also, make sure your website has all the must-have pages:
About

Contact / Work with Me

Resources (gives credibility and demonstrates knowledge)

All Legal Pages
#4 Comply with Affiliate Networks Legal Requirements
Before pressing 'submit application', actually read all the Legal Requirements. They do not exist for illustrative purposes but for legal ones.
If you don't meet the legal requirements, forget about it! You will not get accepted by affiliate networks.
While each affiliate network might have some specific requirements, the following prerequisites are instructed by all:
Do not share misleading information to promote your affiliate links

Display a VISIBLE Affiliate Disclosure wherever you promote affiliate products and services

Do not use in your domain name the Trademarks of any of the companies you advertise

Do not promote your affiliate links through illegal, discriminatory, or inappropriate content.
#5 Know your audience
Knowing your audience is key to being successful with affiliate marketing. But beyond that, this knowledge is relevant to increasing your chances of being accepted by affiliate networks.
During the application process, you must answer critical information about your niche and audience, such as:
Location

Language

Age Group

Interests

Purchase Behavior
But what do you do if you don't have an audience yet?
I understand that possibly you are just starting out. So you may still not have a significant number of monthly page views or followers. But don't worry. In this case, you need to have already chosen a niche. After that, you must know the target persona for whom you will be creating content. Knowing this information, you just need to communicate it.
#6 Write your proposal professionally to get accepted by affiliate networks
Once an affiliate network approves you, your professional proposal will be available in your public profile to potential business partners.
You don't need to write a novel to be accepted by affiliate networks. Just report what you do and for which audience with 
confidence
.
Example 1
My name is x. I have x years of experience as a blogger and Digital Content Creator. My audience consists mostly of mothers and pregnant women in the 25-35 age group looking to make a living working from home. In addition, most of them are residents of English-speaking countries and are interested in investing in vocational courses and online business tools.
To grow my audience, I focus on SEO and Pinterest Marketing. As a result, next year the expectation of growth for my audience is x%.
I look forward to partnering with companies that provide services and products that will aid my audience. I'm sure these partnerships will be beneficial for all parties involved!
Example 2
My name is x and I am a professional in the x industry. Although I am a beginner blogger, I have many industry experiences in my niche. 
I write all my articles in English and target keywords with relevant search volume in the US. As I am investing heavily in SEO optimization, the expectation is that in 18 months my blog has grown to x monthly page views.
In addition, my niche is made up mostly of US millennials, the demographic that holds the most purchasing power. Therefore, becoming a partner with brands that act in my niche has everything to be a beneficial partnership for both parties!
Example 3
I am a travel influencer and photographer currently living as a digital nomad. As a result, my content focuses on tips for solo travelers, van life, and traveling on a budget.
Being a photographer, I'm willing to create stunning visual content to showcase the services and products of my affiliate partners.
Recently I've surpassed x followers on Instagram and x on TikTok. Most importantly, my followers use my images and videos as a source of inspiration. Consequently, I'm sure many companies will benefit from my audience to promote their services and products.
Not to mention that the travel industry has a high conversion rate. So these partnerships have everything to be beneficial for all parties!
Use Grammarly to proofread your affiliate marketer proposals! Click here to try it for free today!
Feel free to use these examples as a draft for your future applications! 😉
But always remember the key points you should address:
Your skills

The platform you use (blog, YouTube, Social Networks, etc.)

The reach of your audience or the expected reach

Who

 is your audience (age, interests, purchasing power, etc.)

What makes you/your audience a promising business partner
#7 Fill out all legal forms
Affiliate marketers are self-employed professionals. Therefore, they must pay all their taxes on their own.
Before being accepted by affiliate networks, you must fill in the legal forms regarding the payment of taxes.
All forms are filled out and signed digitally, so it doesn't cost you more than 5-10 minutes.
If you do not complete these legal forms, you will not be able to receive your commission payments. Consequently, the affiliate network will decline your application.
For more information regarding legal forms and payment of taxes, visit this page here.
---
How long does it take to get approved for an affiliate network?
As a rule of thumb, you can expect a waiting period of 24 hours to 2 weeks to get accepted by affiliate networks.
Try not to rush until then. You don't need to keep sending follow-up emails to check if they received your application. If you sent it through the affiliate networks platforms, they indeed received it.
You will receive an email informing you if you have been accepted or rejected after your application has been reviewed.
Also, note that after being accepted by affiliate networks, you will have to select individually the affiliate programs you want to work with. 
As a result, there will be an additional wait time for each affiliate program you select. Unlike affiliate networks, affiliate programs tend to take a little longer to approve or reject submissions. Usually 1-2 weeks, but sometimes as long as 3 months.
---
Can anyone get an affiliate link?
Not everyone can get an affiliate link. First, you need to submit an application to an affiliate program and be approved. Each affiliate program has different approval criteria. However, some niches have a few quality affiliate programs with high commission rates that automatically accept anyone with just a valid email address and password. But those are exceptions.
How much do affiliate links earn?
The commission rate per sale made through affiliate links varies according to niche, types of products or services sold, monthly sales volume, and overall proposal of the affiliate program. Usually, affiliate links earn from $0.50 to $100+ per sale.
Do you have to pay for affiliate links?
No, you don't have to pay for affiliate links. Companies provide affiliate links to affiliate marketers through agreements whose terms involve the affiliate marketer promoting products and services for free to only receive a commission when a sale is made through the affiliate link.
If someone tries to charge you to give you an affiliate link, decline the offer and look for another affiliate program that does not charge you for affiliate links. You won't have a hard time finding one, as charging for affiliate links is not a common practice and definitely looks shady.
However, keep in mind that most B2B (business-to-business) companies providing services to help operate a company's affiliate program are not free, though. The auxiliary service will charge the company a subscription and fee per transaction made through affiliate links and other services provided as well. This is normal.
Are affiliate links legal?
Yes, affiliate links are legal. Affiliate programs operate legally and are a common practice to generate revenue for companies and brands. In order to profit from affiliate marketing legally, affiliate marketers must comply with all the industry legal requirements, including submitting legal forms regarding payment of taxes.
---
Can you start affiliate marketing with no money?
Technically, yes. You can start affiliate marketing with no money. All it takes is finding an affiliate program that will accept anyone without any passing criteria.
However, to make money from affiliate marketing, you will have to invest some money, especially if you don't want to wait a decade to start earning an affiliate marketing salary.
But I'm not talking about investing hundreds of dollars!
The thing is, to make money with affiliate marketing, you need to nurture an audience. And for that, you need a platform. While free platforms like YouTube and social networks have many advantages, they take years, usually around 5 years, to build an audience large enough to profit from affiliate marketing.
While with a self-hosted blog, the time to start earning $500-$1k/mo is around 18-24 months.
But self-hosted blogs aren't free. Through a quality web hosting service like DreamHost, the cost of starting a self-hosted blog is $35.40/year. The Shared Unlimited annual plan also contains unlimited domain emails + a free domain name.
So no monstrous investment is required to start this profitable side hustle!
How many followers do you need to be an affiliate?
There is no specific answer to this question. With the current state of algorithms on all social networks, the critical factor is how much engagement you have. Not how many followers.
If you have few followers, use your website to fill out the application form. This will increase your chances.
You can get accepted by affiliate networks having less than 100 social media followers. But for that, you must have a website. It will prove your professionalism and commitment to affiliate marketing.
However, you will not be able to make affiliate sales with less than 100 followers. And trying to grow a social media following is tough.
So, if you are serious about making money from affiliate marketing, blogging is your best bet as a beginner. That is, starting a blog is the quickest and surest way to become an affiliate marketer.
Is Instagram good for affiliate marketing?
Instagram is an excellent platform for affiliate marketing, especially in the fashion, beauty, and travel industries. 
But to do affiliate marketing through Instagram, you need to conquer an influential role within your community and have an engaged audience.
Can I do affiliate marketing without showing my face?
The only way to be successful with affiliate marketing without showing your face is by blogging. The audience that consumes content through articles and blog posts is more concerned with how helpful the content is than the blogger's face.
In other media such as social networks and YouTube, proximity to the influencer or YouTuber is a more decisive factor than the quality of the content shared.
That said, on YouTube, it is possible to have successful channels that generate hundreds of affiliate sales per month just through quality tutorials without requiring the YouTuber to show their face. But in this case, at least the voice needs to be shared.
Is it necessary to have a website for affiliate marketing?
It is not necessary to have a website to do affiliate marketing if you have some other platform with an engaged audience like YouTube, Instagram, or TikTok. However, to be accepted by affiliate networks, most will require a website as a mandatory field in the application form.
As a result, if you don't have a website, you will be limited to affiliate programs that don't have any approval criteria, which are in the minority.
So, if you are a complete beginner who doesn't have an audience on any platform, starting a blog-type website is the most affordable and thriving way you can make money with affiliate marketing.
Are you ready to start a blog to make money with affiliate marketing?
Choose DreamHost's Shared Unlimited annual plan and get quality WordPress hosting, unlimited emails @ your domain, and your domain name + domain privacy for FREE! ➡ Start your blog today for $35.40/year!
Share on Pinterest!
If this article was helpful to you, would you consider sharing it on Pinterest? This helps others who may also benefit from this information, as well as helping us spread the word about the quality content that we always strive to create for you. Thank you!
---